Local Moving Services in Palm Beach County with Meehan's Family Moving
Moving can be challenging and stressful. Whether you're buying a new home, changing apartments, or downsizing, Meehan's offers reliable, no-hassle moving services throughout Palm Beach County. It's our job to get you moved and settled quickly, efficiently, and safely so you don't have to worry about it.
What is a local move? Local moves typically span less than 50 miles. From Palm Beach County, local Palm Beach movers service the greater South Florida area, including Broward County.
Many think that relocating nearby is easy. But, don't underestimate the challenges of a short-distance move! A local move isn't usually planned as far in advance as a long-distance move, which can lead to chaotic back-and-forth trips, poor packing, and friends and family getting in each other's way more than helping while trying to get everything on the truck.
Our Palm Beach area movers can simplify and organize that process with our local moving services. You'll say goodbye to all the hard work and stress with Meehan's Family Moving, a trusted local moving company in Palm Beach County for 19 years.
Best Reasons to Hire Professional Palm Beach County Local Movers
If you're weighing the pros and cons of a DIY move vs professional movers in Palm Beach County, you're not alone. A lot of people think that relocating without a local moving company in Palm Beach County will be more affordable. However, if you relocate on your own, you'll have to do all the packing, disassembling of furniture, bending, lifting, loading, securing, and driving. Then you'll have to do it all in reverse. Don't forget the cost of the truck rental, gas, the dollys, and other materials and supplies you'll have to purchase. Saving a little money often isn't worth all the time, stress, and work involved.
With a dependable local moving company in Palm Beach County, you can relax knowing moving day is taken care of for you. Not only that, but a professional mover will also do it faster, easier, and safer than you can. We treat you like family and your belongings as if they were ours. Rest assured knowing that specialists are handling every detail of your move and will get your valuable possessions to your new home safely and on time.
Here are some of the top reasons homeowners and renters choose to hire Palm Beach County area local movers.
You want to save time – professional movers do this for a living. They know how to pack, load, and move you on a quick schedule.
You want peace of mind that your home will be protected – professional movers will protect your belongings using the right equipment so you don't end up with dings and scratches.
You don't want to do the heavy lifting – no need to risk injury or your health performing strenuous work and repetitive bending.
You want a fast, organized moving experience – professional movers have a plan and stick to it.
You don't want to worry about renting or buying the right equipment -You don't have to. Professional movers bring the right equipment, supplies, and the right truck to move you.
Your move comes with logistical challenges – Let the specialists handle the heavy furniture, the upper story move, and your move into a walk-up apartment
Anyone can benefit from the skill, experience, and training of professional Palm Beach County local moving companies. More than likely, you don't have the time for all the tasks involved in a move, you don't have the physical strength and/or dexterity needed, or just want to avoid the hard work and stress when moving is stressful enough already. No matter the reason, you can get the help you need from Meehan's Family Moving, Palm Beach County's best local movers.
Specialized Equipment & Training for Dependable Palm Beach County Local Moving
When you hire our Palm Beach County local movers by the hour, you get highly-skilled workers to do all the manual work on moving day. You'll benefit from movers who are trained, background checked, and arrive on time with the right supplies, equipment, planning, and techniques for a stress-free move.
As one of the best local moving companies in Palm Beach County, Meehan's Family Moving understands the importance of family. Our team will get to know you, your needs, and your requests, tailoring our local moving service specifically for you and your family. You deserve great customer care, and we will pay special attention to every detail for you. We are committed to delivering Palm Beach County local moving services that exceed your expectations.
Our team will provide you with professional packing and unpacking services, we'll disassemble and reassemble your furniture, and we'll transport your valuable household items safely and securely. We also offer storage upon request.
All furniture and valuables are blanket-wrapped for protection. A team tailored to your needs will arrive on moving day with all the equipment and supplies needed including extra materials just in case. We will make sure your belongings are carefully packed and make it to your destination without a scratch.
How Much Does a Palm Beach County Local Move Cost?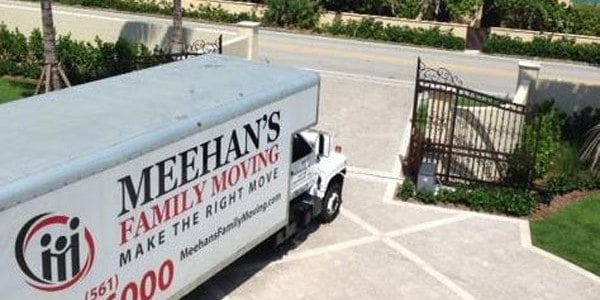 When you request Palm Beach County local moving quotes, you might receive a flat-rate or hourly rate for your move. If you are given an hourly rate, it's generally based on a minimum number of hours for a certain number of movers with the option to add more movers. Packing materials are added to the hourly rate.
The biggest factors affecting the cost of your move are:
Distance
Number of movers
Moving dates
Accessibility of your home
Volume of belongings or size of your home
Level of preparedness
Requested services
Contact Meehan's Family Moving for a free local moving estimate in Palm Beach County. We offer a wide range of services to fit your needs. Our prices are competitive without us compromising the quality of work we offer. Meehan's Family Moving sets ourselves and our name apart by our service. We can promise you the best moving services in Palm Beach County. In South Florida, you have the choice of many moving companies to use. Choose one that puts you first. Meehan's Family Moving is a family-owned and operated company, so we know what it means to put family first.
How to Choose the Best Palm Beach County Local Moving Company
Not all Palm Beach County and Broward County local moving and storage companies are equal. You have to do your homework before choosing movers you can trust with your valuable home and belongings. Here's what to look for in affordable Palm Beach County local movers with the experience and customer care you're looking for.
Licensed and insured
Background checked, trained, and uniformed movers
Years of experience with moves like yours
Low claims rate
High referral rate
Positive moving company reviews
Meehan's Family Moving & Storage has served Palm Beach County, Broward County, and South Florida for 19 years. Our family-owned local moving company in Palm Beach County, FL is AMSA-certified with many 5-star reviews on Facebook, Google, and Yelp based on more than 64,000+ successful moves! We're committed to exceeding your expectations based on nearly 29 years of serving Palm Beach County customers.