The fast-growing city of Greenacres, FL is located about 10 miles to the southwest of West Palm Beach. Greenacres is bordered by Atlantis, Kenwood Estates, Palm Springs, Lake Worth, Glen Ridge, Haverhill, and Lake Clarke Shores.
A Massachusetts man named Lawrence Carter "LC" Swain purchased the area now known as Greenacres back during the land boom of the 1920s. His goal was to create a thriving community that was made for the working class.
Following quick growth, Greenacres was originally incorporated as a city back in May 1926. But after two devastating hurricanes in the late 1920s, Greenacres was disincorporated due to the level of destruction that occurred in the city. The city of Greenacres made a strong comeback as the area began to grow and build again, which led to it being reincorporated in 1947.
Greenacres is best known for its motto: "A Good Place to Live".
1. People Living in Greenacres, FL – Population & Demographics
How many people live in Greenacres? The area has grown by nearly five times since the 1980s with tens of thousands of people moving to Greenacres over the past few decades. The current Greenacres population is 40,529 residents with a median age of 38 years old.
There is a strong influence of Cubans and other Hispanic cultures in the Greenacres community. Local Greenacres demographics are made up of 42% Hispanic or Latino, 32% Caucasian, 20% Black or African American, and 4% Asian. The gender ratio of men vs women in Greenacres is 53% female and 47% male. The median household income in Greenacres is $49,884.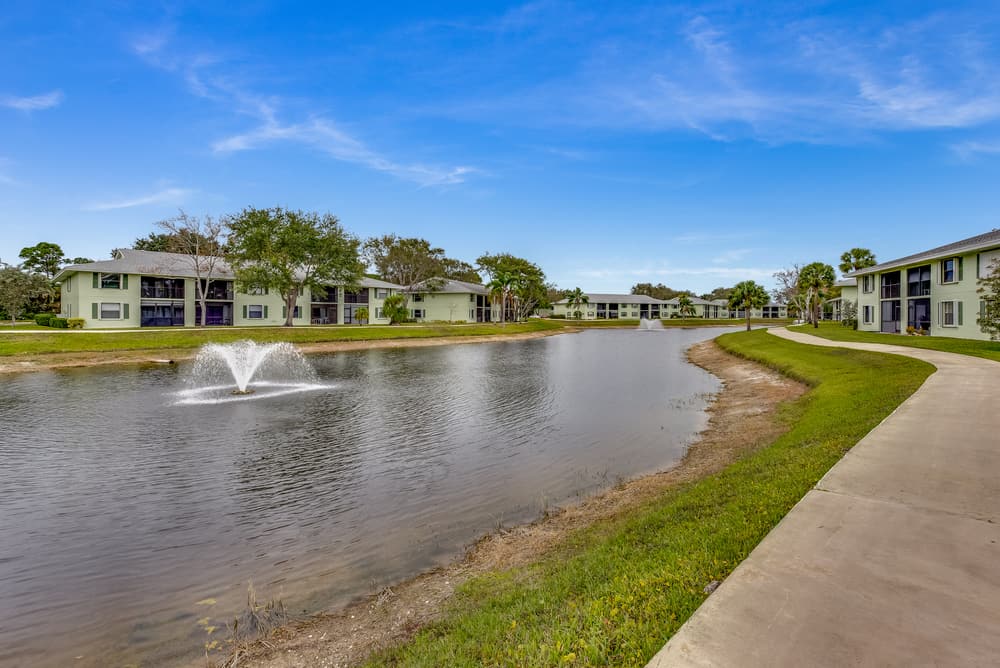 Greenacres takes up about 5.8 square miles near the central east side of Palm Beach County. The local Greenacres zip codes are 33413, 33415, 33463, and 33467. The main area code in Greenacres is 561.
Is Greenacres a safe place to live? The crime rate in Greenacres is 17% lower than the US average and the violent crime rate is 26% lower. Greenacres is generally considered a safe place to live, but it's always a good idea to look into a community before moving there.
2. Cost of Living in Greenacres, FL 
Is Greenacres affordable? How much does it cost to live in Greenacres, FL? The average cost of living in Greenacres is almost exactly the same as the national average and is about 3% lower than the Florida state average. The local Greenacres real estate market and home utilities are considered more affordable than many other parts of the state. While groceries, healthcare, and transportation tend to cost more in Greenacres.
The homeownership rate in Greenacres is 62.9%. The current real estate market for Greenacres, FL homes for sale is somewhat competitive. The average price of a home in Greenacres is $190,000, a fairly affordable price that fits the city's median income.
The Greenacres property tax rate is 1.060%, which is $2,014 per year for an average $190,000 home.
About 37% of people living in Greenacres rent, providing a good supply of affordable leasing opportunities in town. The average price of rent in Greenacres is $1,387 per month, a 3% increase in the past 12 months.
3. Greenacres Neighborhoods
Where should you live in Greenacres? Although it is a fairly small city geographically, there are still a few comfortable Greenacres neighborhoods to choose from if you're moving there:
Palm Beach Villas

Nautica Isles

The Rainbows
There are plenty of places for convenient shopping in Greenacres including recognizable shops like Walgreens, Target, Walmart, the Green Acres Plaza, ALDI, Big Lots, and the River Bridge Center.
4. Greenacres, FL Weather
Located so close to the Atlantic coast, the tropical climate in Greenacres is beautiful for most of the year. While the city does experience a hurricane season, Greenacres weather typically has mild, cool winters and long, humid summers.
The average temperature in Greenacres during its summer season is between the mid-70s and the low 90s. Wintertime only cools down slightly to the mid-50s at night and reaches temps around the mid-70s during the day. The weather in Greenacres gets a good amount of precipitation with about 62 inches of rain per year.
5. Things to Do in Greenacres
It is easy to find fun activities in Greenacres thanks to the many nearby attractions, interesting places to visit, and top-rated parks.
View this post on Instagram
Whenever you're in the mood to catch a movie, head over to the top-rated Greenacres attraction at Lake Worth 8. This popular movie theater shows first-run films as well as occasional classics to fit every moviegoer's interests.
Lake Worth 8, 5881 Lake Worth Rd, Greenacres, FL 33463  (561) 964-0055
Whether you are looking for a great date night or a place to take the kids, Greenacres Bowl is one of the best places to visit in Greenacres. Featuring a 60-lane bowling alley, the popular destination also offers billiards and seasonal activities. With some of the top things to do in Greenacres, everyone will love visiting this hot spot in town.
Greenacres Bowl, 6126 Lake Worth Rd, Greenacres, FL 33463  (561) 968-0100
Additional Greenacres Attractions
6. Greenacres Restaurants – Where to Eat in Greenacres
You'll never have a hard time finding great restaurants in Greenacres thanks to its many hot dining locations in town.
View this post on Instagram
The fun pub scene over at Eagle Grill & Oyster Bar is only part of what makes it one of the best places to eat in Greenacres. With wooden booths and a great selection of American food, visitors can choose from oysters, crab cakes, ribs, gumbo, scallops, fish, fajitas, and so much more.
Eagle Grill & Oyster Bar, 4636 Jog Rd, Greenacres, FL 33467  (561) 964-0009
The self-explanatory name says it all for this popular place to eat in Greenacres that offers some of the best pizza in town. New York Style Pizza & Restaurant also offers many other Italian entrees such as sub sandwiches, pasta, wings, and more in their laid-back location.
New York Style Pizza & Restaurant, 6438 Lake Worth Rd, Greenacres, FL 33463  (561) 964-1503
7. Jobs in Greenacres
The average salary in Greenacres is $43,000 per year. People living in Greenacres don't have to pay income taxes due to the 0% Florida income tax rates. Greenacres has an unemployment rate of 4.6%
If you're searching for Greenacres jobs, there are a handful of strong employment opportunities to choose from. A few of the best places to work in Greenacres are:
Due to its close proximity and easy commute, many residents travel for work from Greenacres to West Palm Beach. People moving to Greenacres who expect to work in West Palm Beach will commute about 10 miles each way, which takes about 25 minutes per trip. Traveling from Greenacres to Miami covers 65 miles and takes 1 hour and 15 minutes.
Indeed offers a closer look at the available jobs in Greenacres as well.
8. Greenacres Schools
There are about 10,132 kids between the ages of 0 and 18 years old residing in Greenacres, which is around 25% of the population in the city. Greenacres is an excellent place for families to live and is part of the respectable Palm Beach School District.
Some of the most reputable and top-rated Greenacres schools include:
Montessori Academy of Early Enrichment Inc.

Greenacres Elementary School

Okeeheelee Middle School

LC Swain Middle School
The closest colleges and universities to Greenacres are Burnett International College, Palm Beach State College, and Draughon's Community College – Palm Beach Center.
Living in Greenacres Pros & Cons
Pro:

The cost of living in Greenacres is affordable and offers a comfortable lifestyle.

Pro:

Greenacres is often considered a great place to raise a family.

Con:

The city of Greenacres is located in a part of the country that does experience a regular hurricane season.
Moving to Greenacres, FL
There is a wide variety of benefits that comes along with relocating to Greenacres, FL. As soon as you've made the decision to make this great city your new home, rely on our top-rated Greenacres movers to handle the job. Give Meehan's Family Moving a call today at (561) 904-6000 or complete the Request a Quote form on this page for a free moving estimate!