Nestled on the southeastern coast of Florida, Boca Raton is an affluent oceanside community. Home to a population of 98,776, and welcoming thousands of visitors each year, this city is especially well-known for its picturesque beaches. While select beaches are private and open only to resort guests, members of select clubs, or select residential communities, others are fully open to the public. From swimming, to fishing, to sunbathing, spending an enjoyable morning or afternoon at one of the best beaches in Boca Raton is always a great way to spend your leisure time.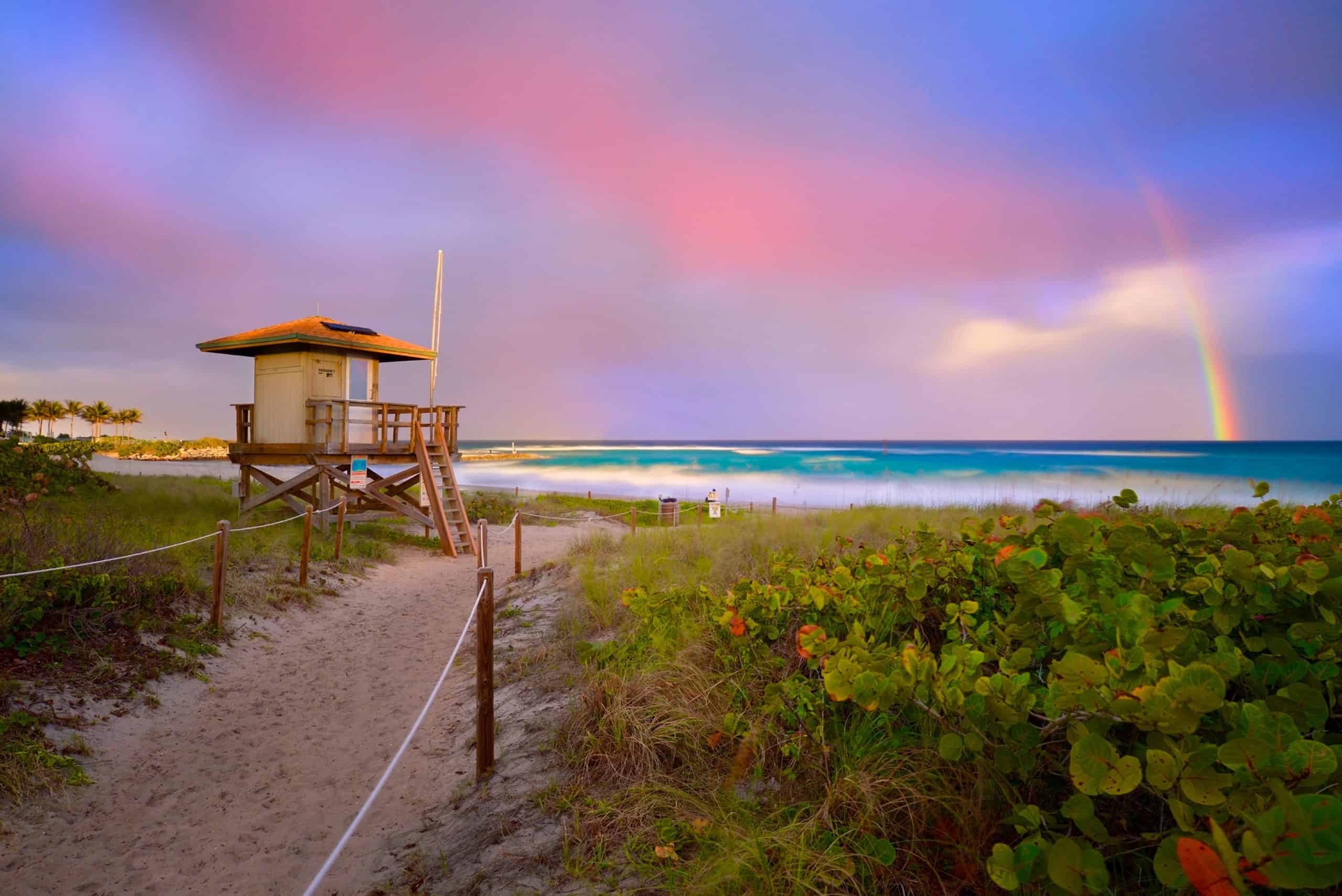 South Beach Park is a beautiful 24.5-acre Boca Raton beach that is great for families and for kids. Among all of the beaches in Boca Raton, this is a popular choice for individuals looking for amazing views of the sunrise or sunset. The beach opens to the public seven days a week at 8 a.m, and closes at sundown. Depending on the time of year, lifeguards are on duty either 9 a.m. until 5 p.m. or 9 a.m. to 6:30 p.m.
What amenities can visitors of South Beach Park expect? Beachgoers can bring their beach chairs and set up in the sand for a day of sun and fun. Visitors can go swimming in the Atlantic Ocean at three designated spots in the park. Swimming is permitted from open to close. Surf fishing is allowed in non-swimming areas, and is strictly prohibited in each of the three swimming locations.
Thanks to the heavy foliage that populates this Boca Raton beach, this is a great locale for wildlife watching. Web-footed birds can often be spotted around the park, so be sure to bring a camera! Additionally, native trees and shrubs are also in the area, which many visitors enjoy viewing. Visitors are strictly prohibited from feeding any wildlife that they may encounter — both on land and in the water.
When arriving at South Beach Park, there is paid parking (typically around $10 per vehicle), but it is limited. There are also public bathrooms available on-site.
What is not permitted at South Beach Park? Dogs and other pets are not allowed on the beach. Additionally, there are no designated picnicking areas, and fires are not allowed on the beach.
400 N State Road A-1-A, Boca Raton, FL 33432
Spanning an impressive 67-acres, Red Reef Park is one of the highest rated beaches in Boca Raton. Located along A1A, just across from the Red Reef Park Executive Golf Course, this beach park is in an idyllic spot.
Red Reef Park recently went through several big improvements, including the installation of a new Snorkel Reef. Situated on the park's south end, this expansion of the original snorkel reef has already been a welcome addition to the snorkel trail. Red Reef Park's snorkel area comprises six artificial reef modules, with 14 additional modules due to the expansion. Snorkelers are able to native fish around the reef, including Spottail Pinfish, Parrotfish, and the Bar Jack.
What else can visitors do at Red Reef Park? Once you've walked the scenic boardwalk, be sure to pack your favorite foods and enjoy a picnic. The picnic facilities also come equipped with barbeques on a first-come first-serve basis. Be sure to keep in mind that alcoholic beverages are not allowed into the park. Pets are also not allowed into Red Reef Park.
Two other major amenities are the park's walking trails and playground. Locals and tourists can stop by the park seven days a week from 8 a.m. – 10 p.m. Parking is $25 per vehicle, but there are also metered spots within walking distance for a lower rate.
1400 N Ocean Blvd, Boca Raton, FL 33432
Simple beach access can be found at the 1 S Ocean Blvd Parking area. Located at the intersection of A1A and East Palmetto Park Road, this convenient spot for accessing the beach provides metered parking that is directly on the ocean. While the parking lot is limited on spaces, it is an extremely convenient place if you can snag a space.
Once you've parked, walk along the scenic shore and take in breathtaking views of the water and of the palm tree swaying in the breeze. Locals enjoy this beach for its superior cleanliness and kid-friendliness. Since there is a one hour time limit with the meters, this is a great spot for those who want to take a brief walk along this Boca Raton beach.
1S S Ocean Blvd, Boca Raton, FL 33432
Situated on the scenic Boca Raton Inlet, South Inlet Park is an awe-inspiring Boca Raton beach. Open from sunrise to sunset seven days per week, visitors have plenty of options in terms of activities and amenities. South Inlet Park spans 11.10 acres, and has numerous things for individuals, couples, and families to do.
Along the beachfront, visitors can go swimming in life guarded waters. In areas that are not designated for swimming, fishing from the shore is permitted. Surfing is also permitted in spots that are not intended for swimming. After finishing up in the sand and water, enjoy the convenience of on-site showers.
What else is found at South Inlet Park? For kids five years of age to 12 years of age, there is a playground near the beachfront. There are also picnic shelters and picnic pavilions for families and groups.There is also a clean restroom facility that is regularly maintained by the local parks department. Parking at South Inlet Park costs $3 per hour during the week, and $4 per hour on weekends and holidays. Parking kiosks only accept credit card payments (no cash is handled).
1100 S Ocean Blvd, Boca Raton, FL 33432
Connected to South Inlet Park on the southern edge of the beach, Boca Inlet Park offers hours of additional fun, views, and amenities. Locals praise this beach for its ease of access, scenic views of the water, and many places to explore. Residents also appreciate that Boca Inlet Park never gets too crowded, even during the height of tourist season.
Visitors can quickly and easily walk to amenities found at South Inlet Park. This includes the picnic pavilions and picnic shelters, barbeques, playground, showers, restrooms, and more. They can also walk along rocky paths that jet into the ocean, view sailboats going by, go fishing, and go swimming. It's an especially pleasant place to take a long walk along the shore. Breezy and filled with stunning views from every angle, this is a great place to take oceanside photos for leisure or for a special occasion.
Parking at Boca Inlet Park costs $3 per hour during the week, and $4 per hour on weekends and holidays. Boca Inlet Park is open from sunrise to sunset every day of the week.
1120 S Ocean Blvd, Boca Raton, FL 33432
Boca Raton Beaches Map
Looking for top-rated Boca Raton movers? Before heading to one of the area's pristine local Boca Raton beaches, be sure to hire our team at Meehan's Family Moving to help you settle into your new home. Assisting people with their relocation needs for over 19 years, we have a thorough understanding of what it takes to deliver top-tier customer service. We've served over 6,400 customers, and have logged a total of 500,000 moving miles. We're proud to offer residential, commercial, and long-distance moving services that provide peace of mind. Ready to request your free moving quote? Contact us today at 561-904-6000.